NEWS
30/03/2021

It is with great sadness that we are informing you that our skipper Gerry passed away last week after an operation in Russell's Hall Hospital.We are all deeply shocked because this is a great loss to our Trust and to us individually because he was such a lovely man and a good friend.He was always the life & soul of our boat trips and brightened up the most dreary day.He had volunteered on the Enterprise for 30 years.

An on line account has been set up for anyone wishing to make a donation in Gerry's memory and this can be accessed through the following link;
https://www.gofundme.com/in-memory-of-gerry-small

NEWS
3/12/2020

SUPPORT FROM MID-COUNTIES CO-OP!
We are very grateful to the Mid-Counties Co-op for giving us funding so that all our skippers and crew can wear smart new fleeces, polo shirts and caps when they are working.
A BIG THANKYOU TO THE MID-COUNTIES CO-OP FROM ALL OUR VOLUNTEERS
We will wear our new uniforms with pride!
NEWS 12/11/19

CONGRATULATIONS!
Congratulations to Gerry Small who was a runner-up in the recent One Walsall Volunteer Awards. He was awarded a well-deserved certificate in the Longstanding Volunteer Award for his 30 years of volunteering with the Walsall Enterprise.
This started when the boat was owned & run by Walsall Social Services Department and it was moored at Brewood. In 2005 when the Truman Enterprise Narrowboat Trust took on the Walsall Enterprise, passengers on board were asking "Where is Gerry?" Fortunately for us Gerry was tracked down and joined the TENT volunteer team. He is a brilliant skipper who has given hours of his life to giving groups a good time on their trips. Gerry still does more trips each year than any other volunteer and he is the man who knows the boat inside & out and can solve most problems.
On 9th October 2019 Gerry and Ray attended the Walsall Volunteer Awards presentation evening in Walsall Town Hall. Many very dedicated volunteers were honoured & recognised at this ceremony. Congratulations to everybody!
A BIG THANKYOU TO GERRY FOR HIS MANY YEARS OF


SERVICE!

NEWS 29/07/19
THANKYOU!
To everyone who helped with and attended the coffee morning at the Cross Keys pub

on 26th July which raised an incredible

£455
for our new boat fund.

Very special thanks to sheila for organising this event and to Mary the Pub Landlady

for hosting the event.

NEWS 30/04/19
THANKYOU JEAN!
It is with sadness that the TENT team of volunteers is losing a valued member – Jean Horton. Jean has volunteered her time & a lot of hard work for the Trust for over 25 years. She has been a crew member on many residential & day trips. For as long as anybody can remember Jean has done the shopping required to provision the boats, as well as spending hours painting, maintaining and cleaning the boats. She has been Trust Treasurer, been on the Management Committee, changed the engine oil, organised the annual boat checks…. the list is endless. Needless to say she will be greatly missed but Jean feels it is time to retire. We wish her all the very best.
NEWS 11/02/2019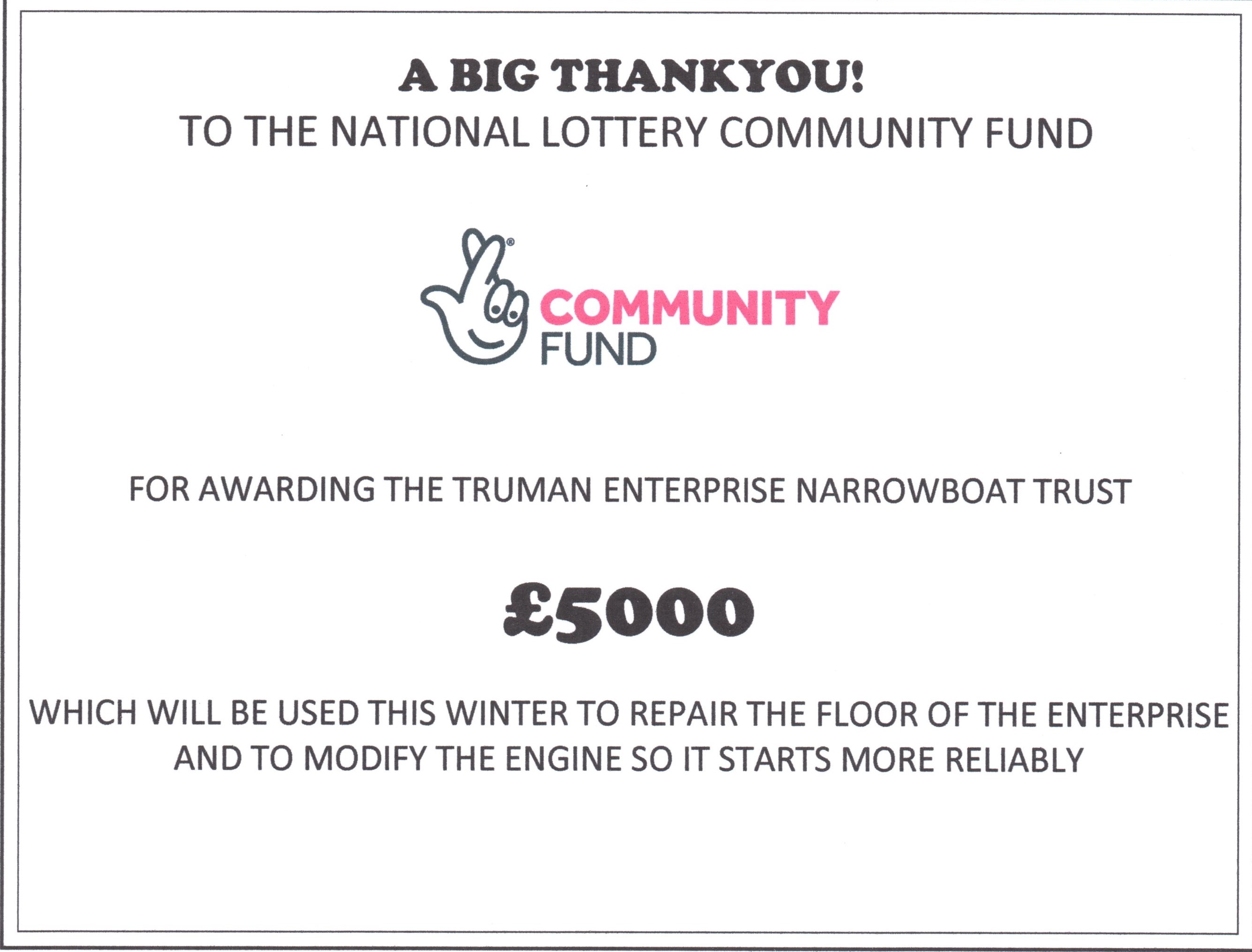 NEWS 27/01/2019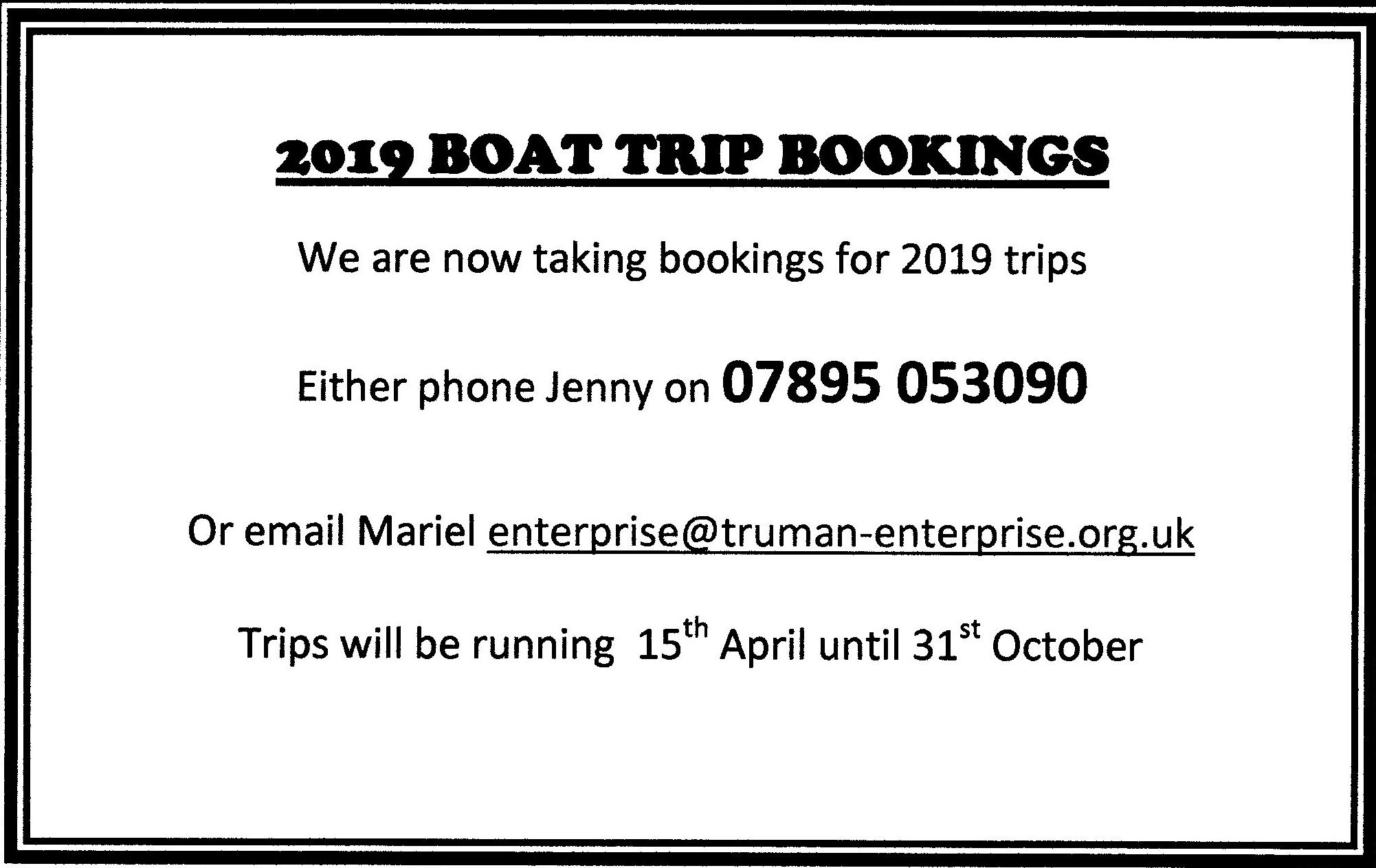 A very generous donation from Fair Oaks Day Hospice
Fair Oaks patients & staff are regular passengers on Enterprise canal boat trips. We always enjoy their company and excellent organisation. In 2018 they raised an incredible £200 and donated it to TENT. One of their volunteers Pat made some beautiful bears which were raffled at the Day Hospice. In addition Pat also made a fantastic Rosie and Jim who will be seen on board the Enterprise in 2019. We are very grateful to Pat for her time and beautiful handiwork. We are also very grateful to all the patients and staff at Fair Oaks for their incredible generosity. This came as a complete surprise. The money will go into our fund for a new boat to replace the Enterprise in the long term.
"THANKYOU VERY MUCH"
Pat with the 2 bears she made for the raffle

Mandy from Fair Oaks who organises all the boat trips presenting the £200 cheque and Rosie & Jim to Mariel

Pat with Rosie & Jim she made for TENT


ENTERPRISE GOES TO RUGELEY 8th SEPTEMBER 2018